Seeking to be on the forefront of technology and delivering products that are competitive in the world market, Reutech Solutions explains the most recent changes and improvements to its Rogue platforms, including new technology developments, as it gears up to display its products at Africa Aerospace and Defence later this month.
New SuperRogue uses Rheinmetall KAE-20mm Cannon
Growing its place in the market, Reutech Solutions decided to augment this choice of weapon for the SuperRogue platform with the inclusion of the KAE cannon from Rheinmetall for the main, naval applications. Due to the ruggedness of its design, the KAE is ideally suited to coping with extreme maritime environmental conditions.
The KAE 20mm x 128mm is a rapid fire cannon, manufactured by Rheinmetall in Zurich, Switzerland, and is the successor of the well-known KAA cannons currently in service with more than 10 navies, such as Brazil, UK, Italy and Trinidad. These cannons are fully marinised and known for their ruggedness, ease of maintenance and operation, and high fire power.
Factory acceptance of new configuration land Rogues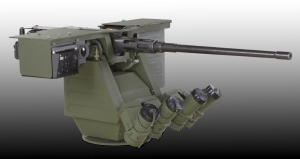 The first 12.7mm Rogue RCWS (remote control weapons station) was given the thumbs-up after recent factory acceptance tests and shooting trials, conducted by the turret integrator and witnessed by the client. The turret integrator awarded the contract for the manufacture of 55 12.7mm Rogue RCWS to Reutech Solutions as part of its contract.
Since contract award, the turret integrator has requested a number of changes to the RCWS base line on behalf of its customer to be in line with its other turret configurations. These included changes to:
* The HMI (Human Machine Interface);
* Electro optic sights; and
* Installation of 76mm smoke grenade launching tubes.
These engineering changes were re-qualified during recent successful factory acceptance tests and shooting trials.
The Reutech solutions weapon station offering
The following remote and manual weapon stations are part of the Reutech product range:
* The Rogue (12.7mm) and the SuperRogue (20mm) stabilised RWS, both of which are already in service in the South African and other navies.
* Manual mounts for 12.7mm and 20mm calibres sold to French shipyards.
* Semi-stabilised and retractable mounts for special applications can be provided for lightweight tactical vehicles and vessels.
* The Missile Rogue is a cost-effective missile capability providing a lightweight RCWS with a capability to launch beam-riding missiles such as the Thales LMM or Denel Ingwe. These systems are also fitted with 12.7mm or 20mm weapons for close protection and are suitable for sea and land applications. A long stand-off range precision strike capability can therefore be provided to a light vehicle or small vessel.
Reutech, part of Reunert, is a group of companies specialising in the electronics and defence industries.