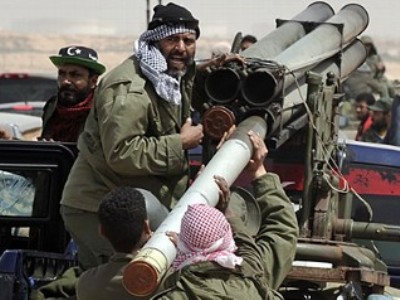 Rebel forces in western Libya pushed north toward the town of Zawiyah near the Mediterranean coast trying to get within striking distance of the capital, Tripoli.
Reaching a settlement called Bir Shuaib, took them within 25 km (15 miles) of Zawiyah, a town less than 50 km from Tripoli, stronghold of Libyan leader Muammar Gaddafi.
"We've gone past Nasr village and right now we're about 25 km from Zawiyah," said Faris, a rebel fighter. Rebels prevented reporters from reaching the front to see for themselves.
Rebels in the Western Mountains do not operate as a single force as each town or village has its own command. However, when they come together for major operations they can muster a force of a few thousand men, Reuters reports.
Their ranks have been bolstered by men who have travelled across the front-line from government-held territory to join them, and also by foreigners with Libyan roots.
The force is poorly trained and short of heavy weaponry — despite a French arms drop earlier this year — and most analysts do not think they are capable of capturing Tripoli.
Their immediate target is Zawiyah, which has risen up twice against Gaddafi's rule since February.
The western battle is one of three widely separated rebel fronts against Gaddafi forces. In the east around the ports of Misrata and Brega, fighting has been bogged down in recent weeks while the western rebels have advanced.
BREGA PROGRESS REPORT
Rebel fighters clashed with forces loyal to Gaddafi in a district of major oil terminal and refinery town, Brega, and hoped to secure the area quickly, a rebel spokesman said.
"There's an engagement in the residential area of Brega right now. We're clearing it and hopefully we will finish today," said spokesman Mohammad Zawawi, who has been predicting a breakthrough for several days.
He said three fighters were killed on Wednesday.
The two sides have been battling for months over Brega, 750 km east of Tripoli.
The rebels see securing the town as a tipping point in the nearly six-month-old war and hope to resume oil exports from there as quickly as possible. The residential area where the fighting was taking place is about 15 km (10 miles) east of the oil terminal and sea port.
"The majority of Gaddafi forces have run away," Zawawi said, adding that most civilians had also fled.
NATO HELP
In the west, doctor Nuri Al-Fasi said one fighter had been killed and four wounded on Thursday in the rebel push. Dozens of pick-up trucks packed with rebels drove to a staging post a few kilometres behind the front-line.
Evidence of help from NATO air strikes was seen at the village of Shalghouda, on the route of the rebel advance.
There were signs of recent fighting and a large building had collapsed, apparently after being hit by a NATO bomb or missile.
A green tent, green army cap and green army uniform lay on the ground among pulverised concrete — the colour of government forces fighting under the flag of Gaddafi's Libya.
Rebels said they had taken the village of Nasr, where there was a concentration of pro-Gaddafi forces.
On the edge of Bir al-Ghanam, south of the new front-line, fighters drove by in pick-up trucks and yelled "Allahu Akbar (God is greatest), victory in Nasr".
At a nearby checkpoint young rebels played football and said they were happy because they expected victory soon. There was an array of pick-up trucks with sand oiled on for camouflage.
Their objective, Zawiyah, is the hometown of many rebels fighting their way north towards the main highway running parallel to the Mediterranean shore into the heart of Tripoli.
From Misrata, a port city east of the capital controlled by anti-Gaddafi forces, there were unconfirmed reports of a rebel push to break through a partial encirclement by Gaddafi forces, striking south in the direction of Tawurgha.
At least two rebels were killed and a dozen were wounded, an unofficial source in Misrata said.