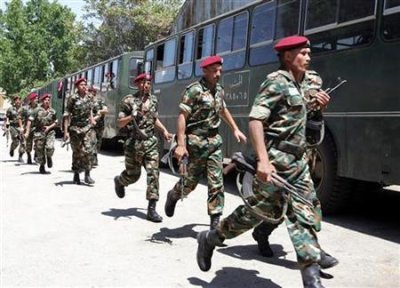 U.N. human rights chief Navi Pillay appealed to both Syrian government forces and rebels to spare civilians in Aleppo, voicing deep concern at the "likelihood of an imminent major confrontation" in the city.
"Civilians and civilian objects – including homes and other property, businesses, schools and places of worship – must be protected at all times. All parties, including the government and opposition forces, must ensure that they distinguish between civilian and military targets," Pillay said in a statement.
She said a "discernable pattern" had emerged as President Bashar al-Assad's forces attempt – using intense shelling, tank fire and door-to-door searches – to clear areas of Syria's biggest urban centre they say are occupied by insurgents, Reuters reports.
"All this, taken along with the reported build-up of forces in and around Aleppo, bodes ill for the people of that city," Pillay said, adding that such attacks were also continuing in two other major cities, Homs and Deir al-Zor.
Pillay cited unconfirmed reports of atrocities including executions and shooting of civilians by snipers during recent fighting in the Syrian capital Damascus.
Her office had also been receiving an increasing number of reports of opposition fighters torturing or executing prisoners.
"Murder and wilful killing, whether committed by government or opposition forces, may constitute crimes against humanity or war crimes. Torture, likewise, is prohibited under all circumstances," said Pillay, a former U.N. war crimes judge.
She believed that crimes against humanity and war crimes have been, and continue to be, committed in Syria. "Those who are committing them should not believe that they will escape justice," Pillay said.
She also voiced concern at reports that unarmed prisoners had been killed in the central prisons of Aleppo and Homs during uprisings in the past week, in violation of international law.
Pillay called for an investigation by independent experts into the incidents, echoing an appeal by Human Rights Watch.
The New York-based group on Friday quoted "Samir", an inmate in Homs central prison, as saying that after a prisoner riot on July 21, government forces surrounded the facility and fired live rounds and tear gas, killing at least seven inmates.