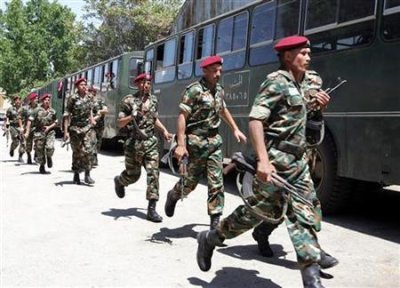 Russia said it would block moves at the U.N. Security Council to extend a U.N. monitoring mission in Syria if Western powers did not stop resorting to "blackmail" by threatening sanctions against Damascus.
Foreign Minister Sergei Lavrov staked out a tough position before talks in Moscow with U.N. envoy Kofi Annan, dismissing international pressure on Russia and China to stop propping up Syrian President Bashar al-Assad.
His comments are likely to dim Western diplomats' hopes that Moscow is trying to find a face-saving way to drop its support for Assad and accept that he should have no role in a transition, Reuters reports.
"To our great regret, we are seeing elements of blackmail," Lavrov told a news conference before Annan started a two-day visit that will include talks on Tuesday with President Vladimir Putin. "This is a counter-productive and a dangerous approach."
He said Russia would not back a resolution on the monitoring mission, now being discussed by the U.N. Security Council, because it contained a threat to impose sanctions if Syria does not comply with Annan's peace plan. Russia's draft includes no such threat.
Lavrov said any deal must follow the principles outlined at talks between Annan and veto-holding members of the Security Council in Geneva on June 30, which Russia takes to mean it must not specifically exclude Assad.
"If our partners decide to block our resolution no matter what, then the U.N. mission will not have a mandate and will have to leave Syria. That would be a pity," said Lavrov, whose country is one of Syria's main arms suppliers.
ASSAD "WILL NOT GO"
Lavrov reiterated that Russia's policy did not revolve around one person but also said Moscow would not approve any political transition that was forced on Syria without the support of the Syrian people.
Calls for Assad to step aside were "unrealistic", he said.
"It's not a question of our preferences, likings or dislikings. He will not go. Not because we are defending him, but because a very large part of the country's population is behind him," Lavrov said.
The Syrian opposition told Russia bluntly at talks last week that its protection of Assad was prolonging the bloodshed.
French President Francois Hollande made a new appeal to Moscow to stop blocking peace efforts at the weekend and Foreign Ministry spokesman Bernard Valero responded to Lavrov's comments on Monday by saying the next U.N. resolution "must be accompanied by the threat of sanctions".
"The Syrian authorities must understand that the violent crimes committed cannot remain unpunished and expose them to consequences," Valero told reporters in a daily briefing.
U.S. Secretary of State Hillary Clinton has accused Russia and China – which also has a veto on the Security Council – of blocking a settlement, saying they should "get off the sidelines" and help.
A Russian arms trade official was quoted last week as saying Moscow would deliver no more weapons to Assad while the fighting continued.
But Russian military sources say five Russian warships are heading for Syria, where Moscow has a naval maintenance facility, and there was no sign of a change in the Kremlin's position when Lavrov met the Syrian opposition in Moscow last week.