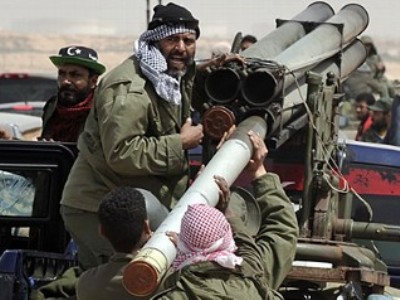 Rebels cheered the defection of a Libyan minister as a sign that Muammar Gaddafi's rule was crumbling, but US officials warned he was far from beaten and made clear they feared entanglement in another painful war.
After former Libyan foreign minister Moussa Koussa arrived in Britain, London urged others around Gaddafi to follow suit. "Gaddafi must be asking himself who will be the next to abandon him," Foreign Secretary William Hague said.
Soon afterwards Ali Abdussalam Treki declined to take up his appointment by Gaddafi as UN ambassador, condemning the "spilling of blood" in Libya, Reuters reports
But reports of defections of more senior Gaddafi aides remained unconfirmed.
Asked about an Al Jazeera TV report that he was one of several who had fled to Tunisia, top oil official Shokri Ghanem told Reuters by phone late on Thursday: "This is not true, I am in my office and I will be on TV in a few minutes."
Koussa's defection, however, raised the spirits of rebel fighters who were put to headlong retreat in a counter-attack by Gaddafi forces this week.
"We are beginning to see the Gaddafi regime crumble," rebel spokesman Mustafa Gheriani said in the eastern town of Benghazi.
However, despite almost two weeks of Western air strikes, Gaddafi's troops have used superior arms and tactics to push back rebels trying to edge westward along the coast from their eastern stronghold of Benghazi toward the capital Tripoli.
News that U.S. President Barack Obama had authorised covert operations in Libya raised the prospect of wider support for the rebels.
But Obama's order is likely to alarm countries already concerned that air strikes on infrastructure and troops by the United States, Britain and France go beyond a U.N. resolution with the stated aim only of protecting civilians.
U.S. government sources told Reuters US intelligence operatives were on the ground in Libya before Obama signed the order, to contact opponents of Gaddafi and assess their capabilities. There has been no CIA comment.
"MISSION CREEP"
"I can't speak to any CIA activities but I will tell you that the president has been quite clear that in terms of the United States military there will be no boots on the ground," U.S. Defense Secretary Robert Gates said.
"I am preoccupied with avoiding mission creep and avoiding having an open-ended, very large-scale American commitment," he later told the Senate Armed Services Committee. "We know about Afghanistan; we know about Iraq."
He said it should not be up to Washington to train or assist rebels or do nation-building if Gaddafi were be to ousted.
The top U.S. military officer said Gaddafi's forces were not close to collapse. "We have actually fairly seriously degraded his military capabilities," Admiral Mike Mullen said. "That does not mean he's about to break from a military standpoint."
Inside Gaddafi's heavily fortified compound in the capital Tripoli, crowds of supporters have gathered every night to form a human shield to protect him against the air strikes.
On Thursday, they danced and chanted patriotic songs late into the night as soldiers manning anti-aircraft guns watched the sky over the capital from the back of their pickup trucks.
"We are not afraid, not afraid, not afraid. We will always protect our leader. I want to say to Muammar Gaddafi: I love you so much!" said Zuhra, a teenage girl at the rally.
A Libyan government spokesman said Gaddafi and all his sons would stay on "until the end".
Gates said Gaddafi's removal was "not part of the military mission" by coalition forces and Italian Foreign Minister Franco Frattini said Western military action would not oust him.
The top Vatican official in the Libyan capital cited witnesses on Thursday saying at least 40 civilians had been killed in air strikes on Tripoli.
NATO said it was investigating but had no confirmation of the report. Libya's state news agency, citing military sources, said Western air strikes had hit a civilian area in the capital overnight, but did not mention casualties.
Britain said it was focusing air strikes around Misrata, which has been under siege from government forces for weeks. Rebels say snipers and tank fire have killed dozens of people.
About 1,000 people are believed to have been killed in clashes between supporters and opponents of Gaddafi since the uprising against his 41-year-old rule began on February 17, the British government said.
The rag-tag forces fighting Gaddafi say they desperately need more arms and ammunition to supplement supplies grabbed from government depots. The United States, France and Britain have raised the possibility, but say no decision has been taken.
NATO, which took over formal command of the air campaign on Thursday, said it would enforce a U.N. arms embargo on all sides. "We are there to protect the Libyan people, not to arm the people," NATO chief Anders Fogh Rasmussen said in Stockholm.
In what Britain's Guardian newspaper said was a sign Gaddafi's inner circle was looking for an exit strategy, it said Libya had sent a senior aide to son Saif al-Islam to London for talks with British officials.
A British Foreign Office spokeswoman neither confirmed nor denied the report, but added: "In any contact that we do have, we make it clear that Gaddafi has to go."
U.S. Secretary of State Hillary Clinton has said she is aware people close to Gaddafi have been trying to make contact.
However, rebels were wary of any attempt by Koussa, who defected to Britain on Wednesday, to negotiate immunity, saying Gaddafi and his entourage must be held accountable.
"We want to see them brought to justice," senior rebel national council official Abdel Hameed Ghoga told Reuters.
While British officials hope Koussa will provide military and diplomatic intelligence, Scottish officials and campaigners want him to shed light on the 1988 airliner bombing over Lockerbie in Scotland, for which a Libyan citizen was convicted.