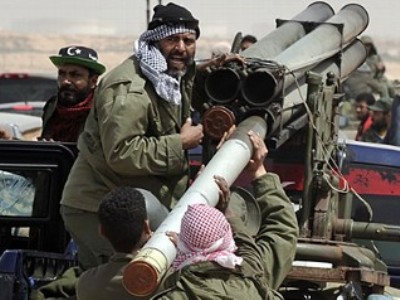 Rebels fighting to overthrow Muammar Gaddafi said five of their fighters were killed when NATO planes mistakenly bombed a rebel tank column near the contested port of Brega in eastern Libya.
In Washington, the head of US Africa command told a Senate hearing the United States should not provide arms to the rebels without a better idea of who they were.
Asked if there was an emerging stalemate in the seven-week-old conflict, General Carter Ham replied: "I would agree with that at present, on the ground."
In rebel-held eastern Libya, wounded rebels being brought to a hospital Ajdabiyah said their trucks and tanks were hit on Thursday by a NATO air strike outside Brega, Reuters reports.
NATO said it was investigating an attack by its aircraft on a tank column in the area along the Mediterranean coast on Thursday, saying the situation was "unclear and fluid."
The fighting for Brega, the only active front, has dragged on for a week and has entered a daily pattern of advances back and forth with neither side making major gains.
Medical workers carried blood-soaked uniforms from hospital rooms in Ajdabiyah, gateway to the insurgent stronghold of Benghazi in the east, after wounded fighters were ferried back from Brega.
"It was a NATO air strike on us. We were near our vehicles near Brega," wounded fighter Younes Jumaa said from a stretcher at the hospital. Nurse Mohamed Ali said at least five rebels were dead.
"NATO are liars. They are siding with Gaddafi," Salem Mislat, one of the rebels, said.
A rebel commander said it appeared to be a case of "friendly fire" and said it did not cause tension with NATO although the rebels wanted an explanation.
Rebels had brought about 20 tanks out of storage and were advancing with them along the coastal desert strip that divides Ajdabiyah and Brega when they were hit, he said.
"We would assume it was NATO by mistake, friendly fire," Abdel Fattah Younes told a news conference in Benghazi, speaking through an English translator.
AIR STRIKES CAUSE STALEMATE
It was the second time in less than a week that rebels had blamed NATO for bombing their comrades by mistake. Thirteen were killed in an air strike not far from the same spot on Saturday. Rebel spokesmen told Reuters Gaddafi forces killed five people and wounded 25 in an artillery bombardment of the isolated and besieged western city of Misrata on Wednesday.
The barrage forced the temporary closure of Misrata's port, a vital lifeline for supplies to besieged civilians, the spokesmen said.
Misrata, Libya's third city, rose up with other towns against Gaddafi in mid-February and has been under siege for weeks, after a violent crackdown put an end to most protests elsewhere in the west of the country.
A rebel spokesman told Reuters that people in Misrata were crammed five families to a house in the few safe districts, to escape a rain of mortar shells from Gaddafi forces which have subjected them to weeks of sniper and artillery fire. Two rebel spokesmen reported fighting on a key road to the city's port as government forces tried to advance.
UN Secretary-General Ban Ki-moon expressed concern about deteriorating conditions for civilians in Misrata and Zintan in the west, and Brega in the east. He said the situation in Misrata was particularly grave with the city under heavy bombardment and shortages of food, water and medical supplies.
Turkish Prime Minister Tayyip Erdogan said Turkey was working on a "road map" to end the war in Libya which would include a cease-fire and the withdrawal of Gaddafi's forces from some cities. Turkey has held talks with envoys from Gaddafi's government and representatives of the opposition. A rebel spokesman said later the rebels rejected talks with Gaddafi and demanded he leave power.
OIL PRODUCTION CUT
Sweden said its warplanes operating from Sicily took part in NATO operations against Gaddafi on Thursday, the first combat sortie by the Nordic country's air force since the early 1960s.
The civil war has cut Libyan oil output by 80 percent, a senior government official said on Thursday, as rebels and Gaddafi's forces traded exchanged accusations over who had attacked oil fields vital to both sides.
Rebels say government attacks on three different installations in the east have halted production of the oil they desperately need to finance the uprising against Gaddafi. The government's Deputy Foreign Minister Khaled Kaim told reporters the British air force had damaged an oil pipeline in a strike against the Sarir oilfield which killed three guards.
NATO denied the alliance carried out any air strikes in the Sarir area and said forces loyal to Gaddafi were responsible for an attack which started a fire in the oilfield. Shokri Ghanem, chairman of the government National Oil Corporation, told Reuters on Thursday the country's production had fallen to 250,000 to 300,000 barrels per day compared with 1.6 million before the uprising.
The Liberian-registered tanker Equator sailed from the port of Marsa el-Hariga, near Tobruk, on Wednesday, apparently with the first cargo of crude sold by rebels since their uprising began in February. Oil traders said the cargo, vital to fund the uprising, was headed for China.
After reported advances by Gaddafi forces from Brega towards Ajdabiyah during the day, both sides appeared to have withdrawn within their secure lines by nightfall, following a familiar pattern.
A senior U.S. Treasury official said Washington had frozen more than $34 billion (20 billion pounds) of Libyan assets as part of sanctions against Gaddafi and his top officials. European governments had also frozen a substantial amount he said.
"Mr. Gaddafi knows what he must do," Clinton told a news conference with Italian Foreign Minister Franco Frattini, reiterating calls for a cease-fire, the withdrawal of his forces from cities they have stormed and his departure from Libya.