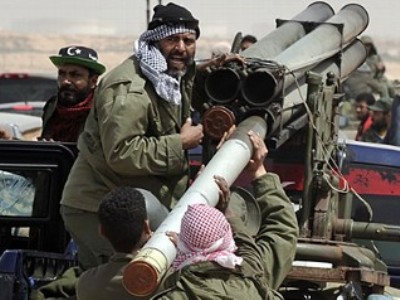 Libyan rebels have found a way to access badly needed cash, selling oil worth $100 million (61 million pounds) paid for through a Qatari bank in U.S. dollars, a member of the rebels' oil and gas support group for Libya said on Monday.
Rebels fighting Libyan leader Muammar Gaddafi were growing increasingly desperate for cash for food and medicine, prompting Western and Arab countries to pledge a cash lifeline potentially worth billions last week.
"So far around 1 million barrels have been sold at $100 million and the money is used to buy basic commodities like food and other aid," the source said, speaking on the sidelines of a meeting of Libya opposition tribal councils in Abu Dhabi, Reuters reports.
"The payments for the Libyan crude are made through a bank account in Qatar and the payment is made in U.S. dollars," said the rebel source, who asked not to be identified.
Soon after rebel forces took control of key oil facilities in Libya's east, Qatar stepped in with an offer to help them market and sell oil.
"We have set up an oil and gas support group in Doha and we now have an office there," the source said. "Qatar is helping with marketing the crude and our main target market is now southern Europe."
Libya's National Oil Corporation (NOC), which effectively controlled the OPEC member's entire oil sector, is under U.N. sanctions.