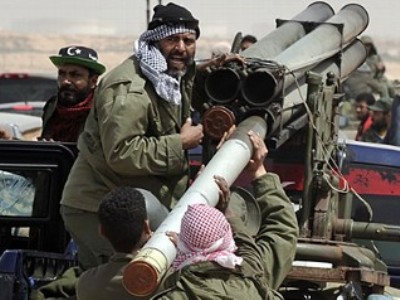 Libya's rebels, with support from NATO, now have a tentative upper hand in the fight against forces loyal to Libyan leader Muammar Gaddafi, the top UN political affairs official said.
"While we do not have a detailed understanding of the military situation on the ground, it is clear that the initiative, although halting, is now with the opposition forces, supported at times by NATO air power," Lynn Pascoe, UN under secretary-general for political affairs, told the UN Security Council.
It was the first time a top UN official suggested publicly that the tide may be turning against Gaddafi's forces more than three months after NATO forces began bombing raids aimed at protecting civilians on the basis of a Security Council mandate, Reuters reports.
Pascoe also echoed what reporters on the ground in Libya have been saying — that the fighting is moving closer to the Libyan capital Tripoli.
He said that the UN special envoy to Libya, Abdelilah Al-Khatib, was trying to "narrow the differences" between the rebels and Gaddafi's government in order to launch indirect peace talks.
Both sides say they want peace, but the rebels insist that any peace deal must involve the ouster of Gaddafi and his family, which Gaddafi's government rejects.
ARREST WARRANTS
Pascoe noted that judges at the International Criminal Court had approved the prosecutor's request for arrest warrants for Gaddafi, his son Saif al-Islam and intelligence chief Abdullah al-Senussi on charges of crimes against humanity. But he did not comment on the court's decision.
ICC prosecutors allege the three were involved in the killing of civilian protesters who rose up in February against Gaddafi's 41-year rule.
Pascoe said there were large numbers of refugees fleeing the violence.
"As of June 23, over 1.1 million people had crossed the borders from Libya to Tunisia, Egypt, Niger, Algeria, Chad and Sudan," he said. "However, as the opposition takes control of some of the towns, there are reports of some of the migrant workers returning."
He said many migrant workers were sailing in dangerous conditions from Libya to Europe.
"Many of these migrants remain unaccounted for or have died at sea," Pascoe said.
He added that the United Nations was "concerned about all reports of civilian casualties, whether resulting from the regime's violence, which … has been responsible for the vast majority of civilian casualties, or from military actions by opposition forces or NATO."
"The secretary-general has emphasized that every effort must be made to avoid exposing civilians to risk," he said.