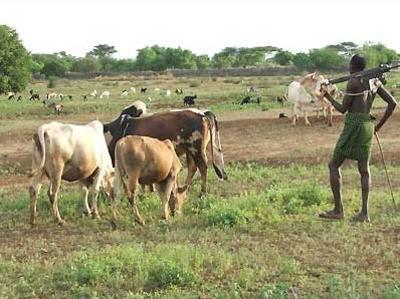 Violent conflicts between farmers and semi-nomadic herders in Nigeria that left dozens of people dead over the weekend illustrate intensifying pressure and competition for arable land in Africa, experts said.
Fertile land is dwindling due to climate change combined with a population boom are fuel conflicts across the continent, they said.
The weekend deaths of at least 86 people in Nigeria's central Plateau state are part of an escalation of conflicts raging for years, often over land.
Nigeria has one of the world's fastest growing populations, rapidly approaching 200 million and expected to be bigger than the United States by 2050, according to United Nations estimates.
With the Boko Haram jihadists' insurgency in Nigeria's central and northern states, herders are forced south to populated farming areas, said Rinaldo Depagne, West Africa project director for the International Crisis Group (ICG).
At least 2,000 people died annually in Nigeria's Middle Belt due to communal land conflicts between cattle herders and farmers between 2011 and 2016, the ICG estimates.
The weekend clashes are "an extension of the violence," Depagne told Thomson Reuters Foundation.
Africa's arable land is being taken up by infrastructure, farmers and multinational agricultural firms seeking to produce food for a growing population, depriving herders of grazing reserves, Depagne said.
"More people to feed means more agricultural settlement and less available land and water for herders. All of this triggers more and more disputes," he said.
Relations between nomadic Fulani herders and farming communities in Mali and Niger are chaotic, with fights over cropland, grazing, water and migration routes, experts say.
Climate change, bringing extreme weather, droughts and desertification, increases conflict over land, said Tim Christophersen, co-ordinator of freshwater, land and climate at United Nations Environment Programme (UNEP).
Both climate change and conflict mean limited access to clean water affecting agricultural productivity, he told the Thomson Reuters Foundation.
"We should stop degradation of land and invest in restoring landscape," he said, suggesting more strategies for resilience, crop diversification and "climate-smart" agriculture.
"We need to make societies more resilient by ensuring people have alternative livelihoods making them use land in a sustainable way," he said.
Drought and desertification degraded pastures and dried up natural water sources across Nigeria's northern state, forcing herders south in search of grassland, Depagne said.
The spread of conflict into the southern states is aggravating already fragile relations among the country's major regional, ethnic and religious groups, he said.
The south's majority Christian communities resent the influx of predominantly Muslim herders, he said.
Authorities imposed a dusk-to-dawn curfew in central Plateau state after the weekend's fighting.
Violence in Nigeria's diverse Middle Belt states has killed more people than the Islamist insurgency in Nigeria's north-east, according to Reuters calculations.