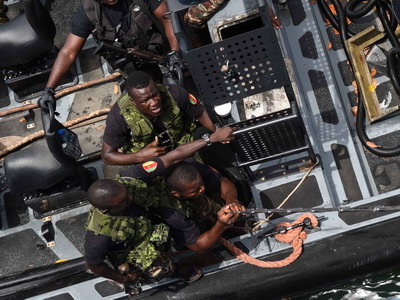 Maritime forces from Gulf of Guinea nations, Europe, North and South America, as well as several regional and international organizations officially began the multinational maritime exercise Obangame Express 2017 with a main official ceremony taking place in Accra, Ghana, March 23.
Local ceremonies celebrating the exercise also took place throughout the Gulf of Guinea.
Obangame Express, sponsored by U.S. Africa Command, is designed to improve regional cooperation, maritime domain awareness, information-sharing practices, and tactical interdiction expertise to enhance the collective capabilities of Gulf of Guinea and West African nations to counter sea-based illicit activity.
"Security in the Gulf of Guinea, along the western coast of Africa, and in Africa as a whole, is critical to global stability. By deterring piracy, preventing illicit trafficking, and stopping illegal fishing we are making the world safer," said Vice Adm. Christopher Grady, deputy commander, U.S. Naval Forces Europe-Africa.
"Skills developed during exercises like Obangame Express have a lasting impact on regional security. Training during past exercises directly led to real world successes in countering illegal unreported and unregulated fishing, as well as deterring piracy and hijacking attempts," said Vice Adm. Christopher Grady, deputy commander, U.S. Naval Forces Europe-Africa.
"What happens on the water matters because it directly affects the daily lives of people on land. What happens on the water impacts the economic success of a country. Nations depend upon their navies to operate at and from the sea, and we are more efficient when we work together," said Vice Adm. Christopher Grady, deputy commander, U.S. Naval Forces Europe-Africa.
"The importance of exercises such as Obangame Express is not just to demonstrate the capabilities of the respective participating countries, but also to support all the Gulf of Guinea area citizens who live and work both on and off-shore," said Robert Jackson, U.S. ambassador to Ghana.
"Although I have great confidence in the able navies arrayed here, I know you agree that maritime security is not just a naval problem to solve. It is therefore fitting that we have brought it representative from many government agencies to join in an exercise that stretches into more than one territory," said Robert Jackson, U.S. ambassador to Ghana.
"Can you imagine the piracy, the drug trade, the illegal fishing, and the human trafficking that would be going on in these waters without exercises like this?" said Honorable Dominic Nitiwul, Ghana minister of defense.
"Obangame Express is an at-sea maritime exercise where African partner nations come together in the spirit of cooperation to strengthen the interoperability of the maritime forces in the Gulf of Guinea. I can definitively say that we are very much looking forward to working with them as we come together to improve our planning and operational skills and promote national and regional security amongst this amazing partnership. The professionalism and mission focus that has been demonstrated during the training portion of this exercise definitely ensures that this year's effort will be the best Obangame Express to date," said Capt. Mike Coleman, Obangame Express Zone D commander.
Exercise Obangame Express, now in its seventh year, is one of three U.S. Naval Forces Europe-Africa-facilitated regional exercises. The exercise is part of a comprehensive strategy by U.S. Naval Forces Europe-Africa/U.S. 6th Fleet and U.S. Africa Command to provide collaborative opportunities amongst African forces and international partners which addresses maritime security concerns.
Obangame Express and Saharan Express were separate exercises which took place in different areas of West Africa, but were combined in 2016. The combined exercise now uses the Obangame Express name for both areas, in West Africa and nations bordering the Gulf of Guinea.
Obangame Express 2017 will be conducted in multiple areas at sea and ashore. At-sea operations will be conducted throughout the Gulf of Guinea. The largest footprint ashore will be in Abidjan, Cote D'Ivoire. Numerous maritime operation centers (MOCs) will be participating from ashore across the Gulf of Guinea and West Africa along with several international organization MOCs. An opening ceremony was held in Accra, and a closing ceremony will be held in Abidjan.
The exercise seeks to leverage the Code of Conduct for West and Central Africa, which provides a regional framework for cooperation and information sharing.
The exercise will last 12 days, with a two-phase underway portion which will encompass a regional framework and transition to an emphasis on national patrols. Throughout, the MOC will exercise information-sharing practices.
Specific skill sets exercised for Obangame Express 2017 include boarding techniques, search and rescue operations, medical casualty response, radio communication, and information management techniques.
Through enhanced cooperation, detection capabilities, and capability to respond — all objectives of Obangame Express 2017 — Gulf of Guinea nations seek to ensure narcotics traffickers are deterred, fisheries trade is protected, and waters remain free of piracy, allowing for global trade to continue unhampered and thus enhancing overall economic stability. The U.S. will provide multiple training teams and controllers operating in African partner nations and aboard partner vessels.
The more than 30 nations scheduled to participate in Obangame Express 2017 includes Angola, Benin, Belgium, Brazil, Cabo Verde, Cameroon, Canada, Cote d'Ivoire, Democratic Republic of Congo, Denmark, France, Gabon, Germany, Ghana, Guinea, Guinea-Bissau, Liberia, Morocco, Namibia, Netherlands, Nigeria, Norway, Portugal, Republic of Congo, Sao Tome & Principe, Senegal, Sierra Leone, Spain, Togo, Turkey, United States, and the United Kingdom, as well as the Economic Community of West African States and the Economic Community of Central African States.