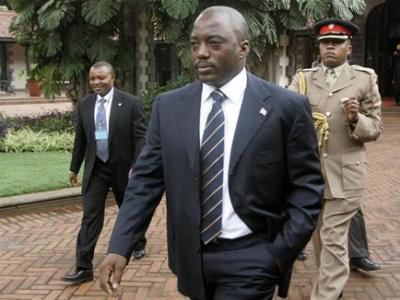 Democratic Republic of Congo will not hold its annual Independence Day military parade because of security concerns, an adviser to President Joseph Kabila said.
Congo's Independence Day parades, held each of the last three years, are usually festive events marking the end of Belgian colonial rule in 1960 and used to show off the Central African country's latest arms acquisitions.
Rising militia violence, a growing humanitarian crisis and a spate of prison breaks have unsettled Africa's largest copper producer in recent months, adding to an already tense political climate.
Kabila refused to step down at the end of his mandate in December, increasing instability and raising fears of a slide back to the civil wars of the turn of the century that killed millions.
Kabila's deputy chief of staff, Jean-Pierre Kambila, told Reuters there would be no military parade on June 30 "for security reasons", but did not elaborate. He said Kabila would likely still give a televised speech.
The parade was also cancelled in 2012 and 2013 during the country's war with the M23 rebellion.
Thousands of inmates have escaped from jails this year, including about 4,000 from Kinshasa's main high-security prison last month. In response, police and army have set up night-time checkpoints in Kinshasa's business district of Gombe.
Meanwhile, fighting between government forces and a local militia in central Kasai region has killed more than 3,300 people and forced 1.3 million to flee their homes since August.
Opponents accuse Kabila, in power since 2001, of deliberately delaying the next presidential election to cling to power, but government says delays are due to a slow voter registration process and financing shortfalls.