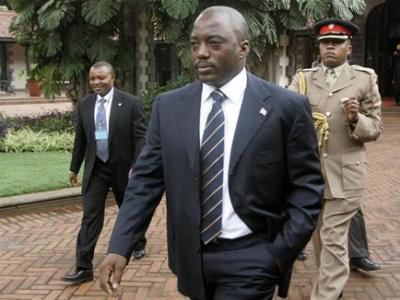 The Democratic Republic of Congo's future remains uncertain after contested elections last November and a new rebellion in the east of the country.
Months of concerns over the credibility of President Joseph Kabila's victory in an election late last year have been overtaken by a revolt in Congo's east and reports that insurgents have been backed by veteran adversary Rwanda.
Rwanda and Congo have agreed on paper to a plan to tackle each other's enemies in the lawless east but details are sketchy and similar agreements have faltered in the past, Reuters reports.
Here are some risk factors to watch:
POLITICS
Kabila came to power after his father was assassinated in 2001. Having won a 2006 vote, he comfortably won re-election in November with 49 percent of the single-round vote.
His PPRD party took 63 of the 500 seats in the National Assembly, down from 111 in the 2006 vote, meaning he is once more reliant on a messy coalition of parties to govern.
The elections were widely criticized by international observers who cited evidence of irregularities and fraud.
The death of Katumba Mwanke in a plane crash earlier this year has deprived Kabila of his closest adviser, but his appointment of Matata Ponyo Mapon, a technocratic prime minister, was largely welcomed.
The government is keen to draw a line under the troubled vote but its business is likely to be dominated by its handling of the east's relapse into conflict.
What to watch:
– Matata Ponyo's new government contains many new faces, seen as an attempt to focus on economic growth. It remains unclear if the economist and former finance minister has the experience to navigate Congo's complex political landscape.
– Cracks may appear in the coalition without Katumba Mwanke's presence, although some believe his death could give Kabila an opportunity to assert himself.
– Deteriorating security situation in eastern Congo. A protracted conflict in the east will drain precious government time and resources, and may cause divisions if handled badly.
– Relations with Rwanda. Tiny but militarily powerful, Rwanda holds the key to stability in Congo's east. Relations have rapidly deteriorated after a three-year rapprochement that followed Kigali's help in ending a previous rebellion. Eastern Congo authorities have accused Rwanda of invading through reported aid for the rebels but the central government has not gone as far.
SIMMERING CONFLICTS
Nearly a decade after the official end to Congo's wars, the vast nation is still crippled by several simmering conflicts.
The defection of renegade general and wanted war criminal Bosco Ntaganda with hundreds of men is the biggest threat to the fragile east since rapprochement with Kigali led to a 2009 peace deal with Tutsi-led rebels experts say Rwanda previously backed.
The defection, after Kabila said he might arrest Ntaganda, has sparked clashes that have displaced 100,000 people. U.N. experts said that top Rwandan officials have been backing the mutineers, though Kigali denies the charge.
After initially struggling to break out of the hills on the Rwandan border, the rebels, known as the M23, have gained ground, temporarily taking the important town of Rutshuru in early July.
Hundreds of government troops fled into Uganda and U.N. peacekeepers have dispatched helicopter gunships to prevent further rebel advances.
Despite numbering only an estimated 2,500 fighters, Rwandan Hutu FDLR rebels also continue to target civilians and have been involved in tit-for-tat massacres with a local self-defence group, Raia Mutomboki, leaving possibly hundreds dead.
Several other rebel groups including the former pro-government Mai Mai militia as well as the Lord's Resistance Army (LRA) and Islamic ADF-NALU fighters, both from Uganda, still operate in Congo's eastern provinces.
What to watch:
– How many fighters will the rebels muster and how far do they plan to advance? Will Rwanda, whose army took part in Congo's two wars, be drawn back into either a direct or indirect conflict with Congo as it attempts to protect its interests in eastern Congo or will it heed foreign warnings and stay out?
– A deal for a "neutral force" to tackle gunmen in eastern Congo has temporarily eased tension between Kigali and Kinshasa but questions linger over where these men will come from and what more it can do than a decade-old UN peacekeeping force.
– U.N. peacekeepers. The world body renewed its mandate in June and the new conflict will test the interpretation of its mandate, which is essentially to protect civilians but is also stretched to back up Congolese government forces.
– LRA threat. A massive internet campaign by NGO Invisible Children has raised the profile of the hunt for LRA leader Joseph Kony. The U.S. has dispatched 100 troops to the region to provide advice and intelligence but poor relations between neighbouring countries continue to hamper regional efforts.
– Ethnic tensions. After nearly two decades of killings and executions at the hands of Rwandan FDLR rebels, there are worrying signs that Raia Mutomboki is tapping into xenophobic sentiment, targeting all Rwanda supporters in eastern Congo.
THE ECONOMY
Despite achieving 7 percent growth in 2011, Congo's economy remains fragile and heavily reliant on outside help. After securing debt relief in 2010, external loan commitments fell to $2.9 billion.
The government has been praised for its efforts to stabilise the economy and hopes to receive the latest payments in a $550 million IMF loan deal after belatedly publishing mining contracts as part of a push for greater transparency.
The official leading interest rate has dropped to 12.5 from 17 percent while annualised inflation is 9.3 percent.
Sustained economic growth is vital to a country where 80 percent of Congo's 67 million people live on less than $2 a day and 75 percent of the working population is unemployed, according to the World Bank.
What to watch:
– Global markets. Congo is aiming for 6.6 percent economic growth in 2012, with Prime Minister Matata Ponyo saying this could be revised up after a strong start to the year. The long-term aim is to hit double-digit growth within five years.
– Mining contracts were published as part of an internationally backed drive for better governance of natural resources. But contracts from the forestry and oil sectors have yet to be made available, undermining claims of transparency.
– Donors disappointed with elections may take a tougher line with the government before disbursing funds.
– Inflation. High-denomination notes of up to 10,000 francs ($10.88) have been introduced, jogging memories of the dizzying hyperinflation under former dictator Mobutu Sese Seko which sent the local economy crashing.
INVESTMENT CLIMATE
Congo is the sixth worst place to do business out of 183 countries ranked by the World Bank and analysts say political uncertainty will further unnerve investors.
What to watch:
– Will Kabila's new technocratic government succeed in attracting investors as it also tackles the worsening security in the east?
– Audit of Gecamines contracts. State-run miner Gecamines says it plans to fund a near-$1 billion expansion in part by auditing its joint-venture partners to ensure it is "getting all its dues". The plan could put Gecamines, a former mining heavyweight reduced to a minor player in joint ventures, on a collision course with partners like Freeport McMoRan and Glencore-owned Katanga Mining.
– Asset sales. A number of Congolese mining assets have been sold to fund the Gecamines revamp but the firm has said no more will be put on the block, despite still needing cash.
– Efforts to trace "conflict minerals". Trade is down and smuggling up in eastern Congo, the United Nations has said, amid confusion over the details of U.S. legislation aimed at increasing traceability. Due diligence programmes have been successfully implemented in some areas.
– Congo's nascent oil sector. French oil giant Total has taken a share in another eastern oil block near Virunga. After buying into a block in the west, Italian major Eni would also like oil blocks in the east.
– Analysts have warned of "semi-nationalisation" of the agriculture sector after the government passed a law in December saying all agri-business must be majority Congolese-owned.