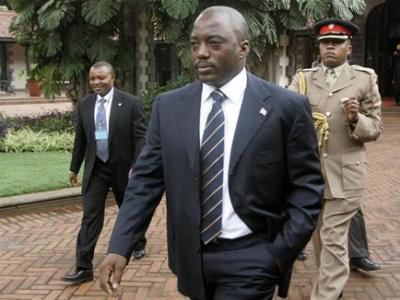 Opposition calls for mass protests against Democratic Republic of Congo President Joseph Kabila fell flat when only a handful of people showed up, undermining efforts to oust him after his refusal to quit on expiry of his mandate last year.
The sparse turnout in the capital Kinshasa and other major cities on Monday pointed to waning opposition credibility and persistent difficulties convincing Congolese to risk frequently deadly crackdowns by security services.
The normally hectic streets of Kinshasa, a city of more than 10 million, were nearly deserted as police patrolled heavily and fearful residents stayed home.
"How was I supposed to march?" said Papy Kazadi, an opposition supporter on Kinshasa's deserted Boulevard Triomphal, where the march was supposed to begin. "There is no one here."
The demonstration's prospects dimmed on Sunday when the main opposition leader, Felix Tshisekedi, flew to Ethiopia at the invitation of the African Union, just hours after holding a news conference to urge Congolese to take to the streets.
Deadly protests in September and December as well as worsening militia violence across the vast country in recent months raised fears of a slide back to the civil wars of the turn of the century that killed millions.
Kabila has successfully co-opted many opponents by negotiating the formation of a power-sharing government meant to organise a presidential election to replace him by year-end.
The country's second city Lubumbashi and its eastern hub of Goma also remained calm, residents said, with police arresting about 10 demonstrators in Lubumbashi.
The United Nations human rights office in DR Congo confirmed at least 40 arrests of people trying to demonstrate across the country.
"The precipitous departure of Felix Tshisekedi the day before the march was indeed discouraging," Desire Kapangu, a resident of Kinshasa's Kasavubu district, told Reuters.
The opposition has also been wracked by infighting since the February death of long-time standard-bearer Etienne Tshisekedi.
Last Friday, Kabila named Bruno Tshibala, a former member of his Union for Democracy and Social Progress (UDPS), the largest opposition party, as new prime minister.
The UDPS and its allies rejected his nomination, saying Kabila violated a December deal with them by not naming a candidate of the alliance's choosing and accused him of manoeuvring to hold onto power.
Kabila denies that charge. He said election delays are due to logistic and budgetary constraints.