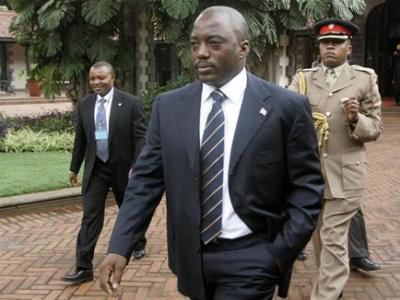 A public prosecutor in Democratic Republic of Congo has asked a court to sentence a leading opposition presidential candidate to five years in prison after he was accused of selling a house that did not belong to him, his lawyer said on Tuesday.
The candidate, Moise Katumbi, was indicted last month after he was accused of hiring mercenaries in a plot against the state. He left the country the following day with the permission of Congo's prosecutor general to receive medical treatment and is currently in Europe.
Katumbi has denied the charges against him, which he has said are aimed at derailing his bid to replace President Joseph Kabila in a November presidential election.
Political tensions are high in Congo. The government has said that it is unlikely it will be able to hold the election on time due to budgetary and logistical constraints, a delay the United Nations warned last week could trigger widespread unrest.
Kabila, in power since 2001, is barred by constitutional term limits from standing again but opponents have accused him of plotting to delay the vote in order to cling to power.
The public prosecutor said Katumbi sold a house in the southeastern city of Lubumbashi that did not belong to him and recommended to the court on Monday that Katumbi receive five years in prison, Katumbi's lawyer King Kasongo Mushilanama told Reuters.
Kasongo said that Katumbi grew up in the house in the south-eastern city of Lubumbashi and that it is owned by his older brother Raphael Katebe Katoto. He said Katumbi was being tried in absentia.
The president of the bar association in Lubumbashi, Rose Tumba, confirmed that the prosecutor had requested a five-year prison term but declined to discuss specifics of the case.
The prosecutor general could not be immediately reached for comment. The government has repeatedly denied that the accusations are politically motivated.