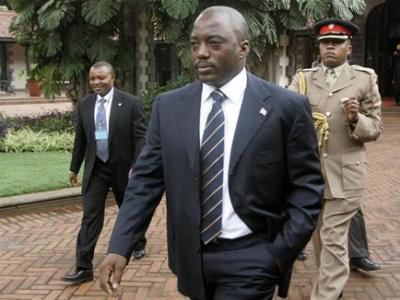 Democratic Republic of Congo opposition leader Moise Katumbi on Thursday denied an accusation by the government that he hired foreign mercenaries, and said he had nothing to fear from an investigation into his conduct or from reports that he might be arrested.
His comments come a day after he announced he would run for president of Congo in November, at an election to choose a successor to incumbent Joseph Kabila who is due to step down at the end of his two-term mandate.
Tensions are high ahead of the election in part because Kabila has not declared his intentions. Critics say he intends to remain in power after his mandate ends, leading a country that has not had a peaceful transition of power since independence.
Justice Minister Alexis Thambwe Mwamba said authorities had proof Katumbi was involved in recruiting mercenaries including several retired American soldiers. A government spokesman said four of Katumbi's bodyguards were arrested because they were not authorized to work in the country.
"I have nothing to fear because I have no mercenaries with me at the house, nor have I recruited any. It's just rumours … Investigators said they were going to come to my house to search and arrest me. Let them come," Katumbi said.
"I maintain my candidacy (for the presidency) and will stay true to my peaceful struggle for the state and the law," he told Reuters.
The U.S. Embassy in the capital Kinshasa said on its Facebook page it was deeply concerned about Mwamba's accusations and believed them to be false.
It said a U.S. citizen working in Katanga province as a security advisor for a private U.S. company that consults around the world was arrested on April 24, but was unarmed and that allegations he was involved in mercenary activity are false.
Katumbi governed Katanga, Congo's southeastern copper-mining heartland, from 2007 until last September when he quit Kabila's ruling party, accusing it of plotting to keep the president in power beyond the two-term limit.
More than 40 people were killed in protests in January 2015 over the issue of whether Kabila might try to stay in power beyond his term. Since then, authorities have arrested dozens of critics of Kabila on what the United Nations and human rights groups say are trumped-up charges.