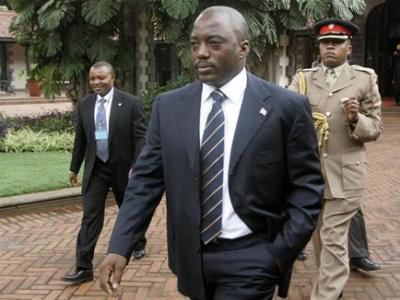 Democratic Republic of Congo's Joseph Kabila issued a raft of pardons on Friday, including to several pro-democracy activists detained after calling for the president to stand down.
Kabila, in power since 2001, is required by the constitution to leave office this year after a scheduled November election. But the government says logistical and budgetary constraints make it unrealistic to hold the vote on time.
Opposition leaders accuse him of trying to delay the presidential election to hang onto power beyond his mandate.
The government has arrested dozens of political opposition leaders, pro-democracy activists and human rights advocates over the last two years on what the United Nations and rights groups say are politically-motivated charges.
On Friday, Kabila granted pardons to six members of the youth activist group Struggle for Change (Lucha), arrested in February as they prepared for a general strike calling on Kabila to step down this year.
The six were convicted in March of incitement to revolt and sentenced on appeal to six months in prison.
Kabila also pardoned all prisoners who are female, handicapped, 65 or older, 30 or younger, or who were sentenced to less than three years, with the exception of fugitives and people convicted of serious crimes such as rape, murder, corruption, treason and genocide.
There is also an exception for the crime of "association with criminals", a charge levelled against a number of people considered by rights groups to be political prisoners. The government denies the country has political prisoners.
The pardons only apply to people who have already been convicted, excluding many who have languished in prison for months awaiting court judgements.
Kabila has encouraged opponents to participate in a national dialogue to clear the way for eventual elections. After initially rejecting the proposal, many opposition leaders have expressed openness but have made the release of political prisoners one of their preconditions.
Opposition leaders could not be immediately reached for comment.
The pardons come the day after a visit to Congo by U.N. High Commissioner for Human Rights Zeid Ra'ad Al Hussein who called on the government to release political prisoners.
The director of the U.N. human rights office in Congo, Jose Maria Aranaz, called the pardons "a decision in line with the request by the High Commissioner" but added his office would be monitoring whether the government takes further steps.