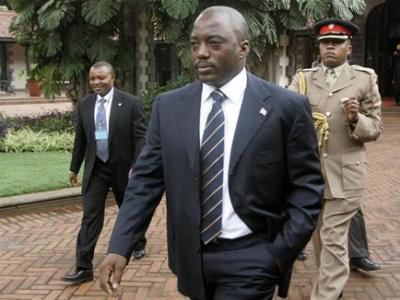 Democratic Republic of Congo's main opposition MLC party named Jean-Pierre Bemba, currently standing international trial for war crimes, as its candidate to challenge President Joseph Kabila in a November 28 election.
However, with it unclear whether Bemba would be free to run, local analysts said the move at a party meeting Saturday was likely a bid by the MLC to strengthen its hand in talks over a possible anti-Kabila alliance with other parties.
"The MLC is trying to raise its profile ahead of the election … It wants to be portrayed as a force which can allow the opposition to win," said Philippe Biyoya, politics professor at the University of Kinshasa, Reuters reports.
In a statement issued after the party congress in Kinshasa, the MLC (Movement for the Liberation of Congo) said it was open to alliances with other parties, without naming which ones.
Bemba, 48, a former vice president of the central African country who remains popular in the capital Kinshasa, is on trial in the International Criminal Court on two counts of crimes against humanity and three of war crimes.
His troops are alleged to have committed hundreds of rapes and pillaged property in the Central African Republic between late 2002 and early 2003, when they were sent there in an ultimately unsuccessful effort to put down coup attempts.
He came second to Kabila in the 2006 election and is seen by many Congolese as more attuned to their welfare needs in a country which is still trying to recover from its 1998-2003 war and where many live on barely more than a dollar day. He was arrested in 2008.
Kabila has pushed through changes to the election law meaning that he can win even without securing an absolute majority, a move many analysts believe makes him favourite for the poll against a fragmented opposition.
However, that has prompted some rival parties to discuss the possibility of reunited behind a single candidate which would then hope to pick up the anti-Kabila vote.
There has been talk of a possible triumvirate, with the MLC linking up with veteran opposition figure Etienne Tshisekedi and Vital Kamerhe, Kabila's former campaign manager.