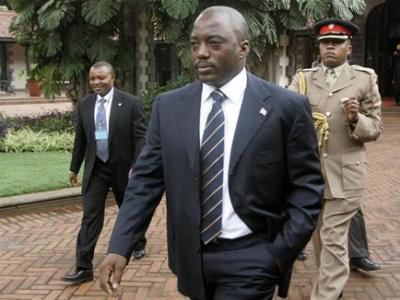 The African Union urged candidates in Democratic Republic of Congo's elections to accept the outcome of this week's polls, saying they were well managed despite technical problems and violence.
Monday's presidential and parliamentary elections, the second since the 2003 end of a civil war, were accompanied by outbreaks of violence in which at least eight people died, shortages of voting materials and confusion over voter lists.
European Union foreign policy chief Catherine Ashton, in a statement, condemned the violence and urged all Congolese political forces to respect the rules of the electoral process and use only legal means to settle disputes, Reuters reports.
Four presidential rivals to incumbent Joseph Kabila have called for the vote to be annulled, alleging widespread fraud, a demand which the African observer missions rejected.
"We call on all political actors to show their responsibility by accepting the results," AU observer mission chief Moctar Ouane said in a joint statement with the Southern African SADC grouping and the ICGLR Great Lakes Region.
Nosiviwe Mapisa Nqakula, South African prisons minister and head of the SADC mission, said the national election commission CENI had done a "sterling job."
"The Congolese have demonstrated their gains from 2006," she said, referring to the first post-war election organised largely under the auspices of the United Nations.
International election observer organisation, the Carter Center, however remains cautious, saying it was too early to give an overall verdict on the vote or turn out.
It said the poll was hampered by problems including voters struggling to find their names on voter rolls and lack of materials including ballot papers in "a significant number of cases."
Kabila's move this year to sign off on constitutional changes making the vote a single-round election was widely seen as giving him the edge against a split field of 10 rivals. It means that a simple majority is needed for victory.
However his chief challenger Etienne Tshisekedi's camp have said early indications from polling stations suggest he is in the lead, and Tshisekedi conspicuously failed to join the call of other candidates for an annulment.
Preliminary results are due on December 6.
INADEQUATE PREPARATIONS
At various results compilation centres across the vast minerals-rich Central African nation, the election commission (CENI) is totalling results from about 63,000 polling stations.
The Carter Center has warned that preparations for the compilation of the results had also been inadequate.
"CENI must intensify its efforts to ensure that the voice of the Congolese people is respected, recorded and communicated in a manner that is secure and transparent," it said.
On Tuesday night, at one compilation centre in the capital, employees worked by torchlight at a dimly-lit warehouse where taxis and battered minibuses packed full if ballot boxes were being emptied onto the grass outside the building.
The count for the legislatives will take 45 days but the presidential results was still expected on time on December 6, the manager of the centre said.
The complaints of fraud have led to concerns that Congo could see a post-election dispute like Ivory Coast, which this year descended into four months of conflict when incumbent Laurent Gbagbo refused to accept defeat.
In a move that will not go unnoticed in Kinshasa, the International Criminal Court issued an arrest warrant for Gbagbo and transferred him to The Hague on Wednesday to face charges of crimes against humanity for his alleged part in a conflict which claimed at least 3,000 lives.
ICC prosecutor Luis Moreno-Ocampo warned Congolese politicians this month they must avoid electoral violence or risk facing justice at the court.