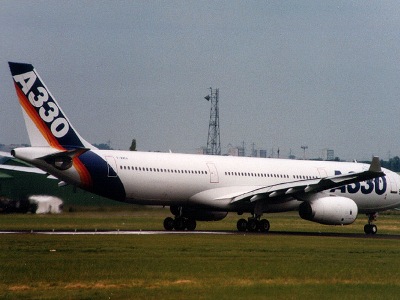 European planemaker Airbus is preparing the maiden test flight of a new freighter plane, but looked set to announce a switch of the first operator amid turmoil in the global cargo market.
The EADS unit said yesterday it would fly the first cargo version of its mid-sized A330-200 passenger plane at its Toulouse headquarters today, barring poor weather.
Air freight accounts for almost half of world trade by value, according to airline industry figures.
Airbus launched development of the plane at the height of aircraft demand and a booming global economy in 2007, aiming to challenge Boeing's recent dominance of airborne trade.
The first buyer was Flyington Freighters, an Indian start-up promoted by the publisher of the Deccan Chronicle, which placed an order for 12 planes now worth $2.2 billion at list prices.
But industry sources told
Reuters
the Hyderabad-based firm, touted as India's first international all-freighter airline, would not now take the first delivery, which has been pushed back from the second-half of 2009 to spring and now summer 2010.
Airbus declined to say which company would first put the plane into service but a spokesman said it had "agreed with Flyington to reschedule deliveries," without elaborating.
Flyington was not available for comment.
Two industry sources said Abu Dhabi's Etihad Airways would step in to take delivery of the first plane, but one analyst said it may have agreed to do so only reluctantly.
"Etihad is reluctant to take any early versions of a new airplane," said Saj Ahmad, a UK-based aerospace analyst with FleetBuzz Editorial.
"Despite the A330F coming in at half a ton lighter, much of the development work… was done without their input."
Airbus has so far sold 67 of A300-200Fs to 9 customers.
Built to carry 69 tons, the aircraft starts its flight tests 9 months after the larger Boeing 777 freighter entered operations with Air France.
Both twin-engined models were initially designed to tap into forecasts of seemingly relentless growth in world trade and a wave of replacements of older, less fuel-efficient jets.
But the cargo sector has taken an even more dramatic hit than passenger travel from the global economic crisis and conditions have been made worse by scarce trade financing.
Some operators have been forced to park loss-making freight planes in the desert, where airlines often store idle capacity.
Airbus is the world's largest producer of passenger jets ahead of Boeing but does not currently have a freight plane in production after customers cancelled a planned freight version of its A380 superjumbo because of marketing differences.
Airbus says the A380 superfreighter is still technically part of its product line.