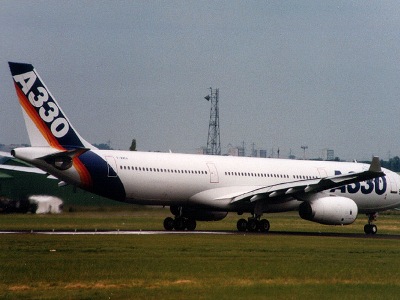 Airbus has found ways to cut the operating cost its A330/A340 family through maintenance schedule optimization.
The improvements comprise an extension of the 'A-check' interval from the existing 600 flight hours (FH) to 800 FH, as well as an extension of the Heavy Maintenance check interval from 10 to 12 years.
The improvements have been incorporated in 'revision 11' of the A330 and A340 Maintenance Review Board Reports (MRBRs), which were recently approved by the European Aviation Safety Agency (EASA), the US Federal Aviation Administration (FAA) and Transport Canada.
Furthermore, the A330 Maintenance Planning Document (MPD) revision 16 and A340 MPD revision 17 have been updated accordingly.
Airbus-owner EADS says in a statement that the A-check interval increase will result in a reduction from seven to five A-checks per year for a typical utilisation of 4400 FH per year, thereby increasing aircraft availability.
Meanwhile, the new 12-yearly Heavy-check interval will allow operators to synchronise the six-yearly Intermediate-check and 12-yearly Heavy-checks, leading to a reduction of one Heavy-check in the aircraft life.
"The revised intervals are an improvement which will potentially result in airframe maintenance cost savings of up to six percent – the equivalent of approximately US $1 million savings per aircraft over a 15 year period at present values," says Frank Schreiber, Airbus Vice President Maintenance Programmes and Services.
Charles Champion, Executive Vice President Customer Services, adds that this "latest achievement clearly demonstrates Airbus' on-going commitment to optimise the maintenance programmes, to further reduce overall direct maintenance costs, as well as contributing to eco-efficiency."